Landau Forte Academy QEMS is an 11-16 Academy situated to the north of Tamworth on a large and pleasant campus. We opened in September 2011, as part of the Landau Forte Charitable Trust family of schools, educating over 650 students in Years 7 to 11.
Our Vision and Values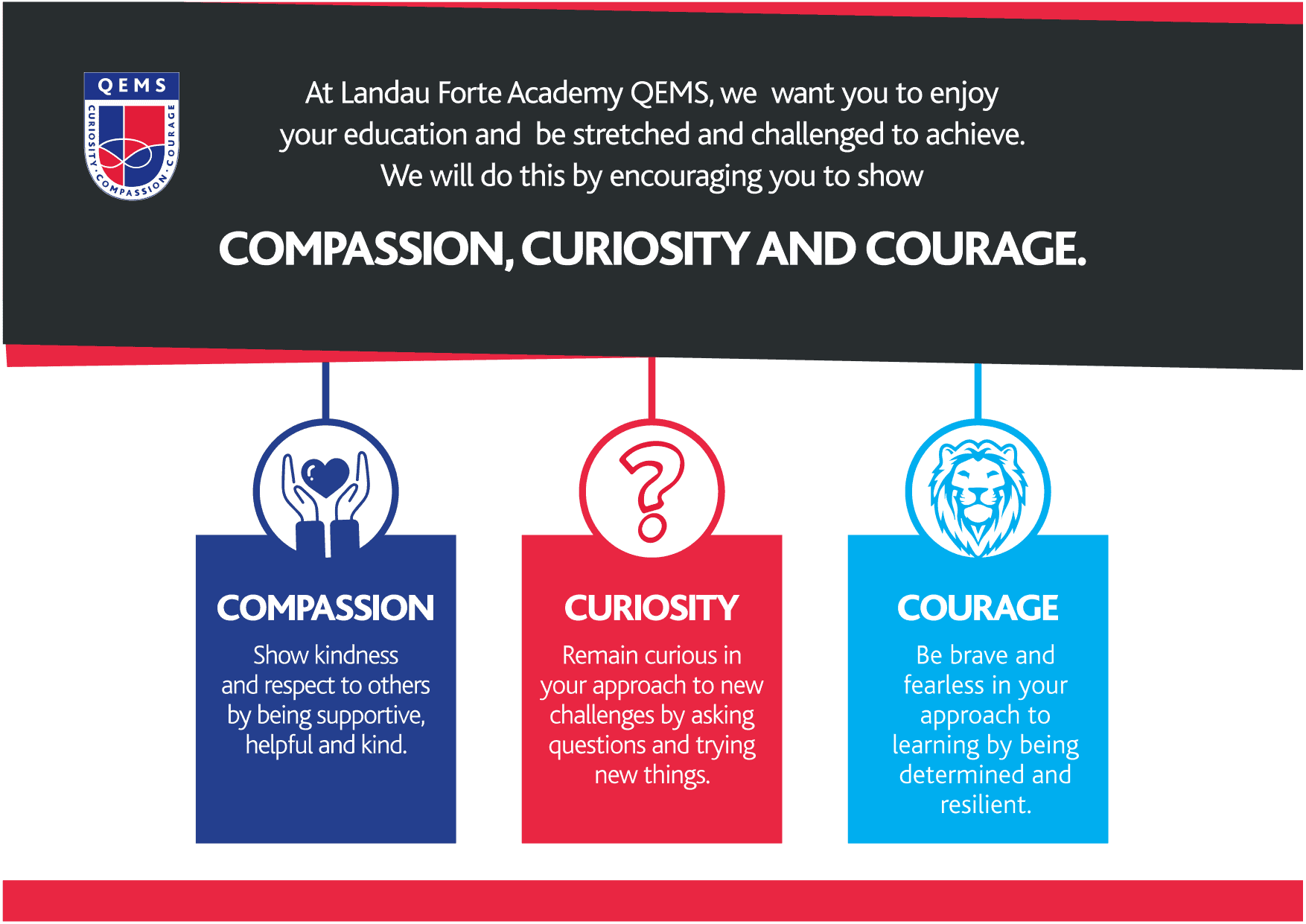 About the Trust
Landau Forte Charitable Trust was established in 1989 and now operates 6 Primary, Secondary and Sixth Form Academies across the Midlands. Our education model and over 20 years of experience operating an innovative and forward-thinking educational organisation has become the DNA from which more Landau Forte Academies have been developed.
We are passionate about educating children across the 4 – 19 age range. It is our intention to make a positive difference to the lives of young people with the ambition of securing the best education possible for them.
For more information about the Trust and our academies, we encourage you to visit the Landau Forte Charitable Trust website.
Contact details for the Trust can be found at the end of the Academy's Contact page.
Trust Resources
Directors and Trustees
| | |
| --- | --- |
| Peter Cox | Chair of Trustees |
| Martin Landau | President of the Trust, Principal Founding Sponsor, and Member |
| The Hon Mrs Olga Polizzi, CBE | Member |
| The Hon Sir Rocco Forte | Founding Sponsor, Member |
| Simon Shooter | Member |
| Alex Polizzi | Member |
| Margaret Bell | Trustee |
| David Shore | Trustee |
| Steven Caplan | Trustee |
| Lucy Monk | Trustee |
| John Ward | Trustee |
| Eric Cowcill | Trustee |
| Rebecca Scutt | Trustee |
| Amanda Solloway | Trustee |
| Joseph Chivayo | Trustee |